Multi-channel marketing, in its essence, is a customer-centric approach that calls for constant vigilance and optimization on the part of marketers.
What separates it from other techniques is the presence of a single focal point for diverse marketing activities. Using it, marketers are able to launch the campaign across different channels and follow customers as they hop from one channel to another. As such, the multichannel discipline has breathed new life into the good old email marketing.
This channel now poses a binding substance for various offline and online activities, a tool for connecting different channels into one consistent, branded amalgam. In the age of increased multi-device consumer behavior, there is no better way to cut through the noise and position yourself higher in the digital food chain.
Brave new marketing wilderness
Multichannel marketing approach needs no extensive introduction. It has an impressive track record, which speaks volumes about various adoption benefits.
Beyond everything else, it has empowered modern brands to combine different channels without losing the consistency of tone and voice. And this is not some common wisdom we are selling here. We have numerous studies of Aberdeen Group, eConsultancy, Forrester Research, and other organizations as solid proof.

Moreover, just take the example of eHarmony marketing campaign from 2016, which focused on the real-life success story of two of its clients. With segmented, location-based push notifications alone, the brand reached 20,000 paid subscribers and achieved 72% higher engagement rates when compared to regular campaigns.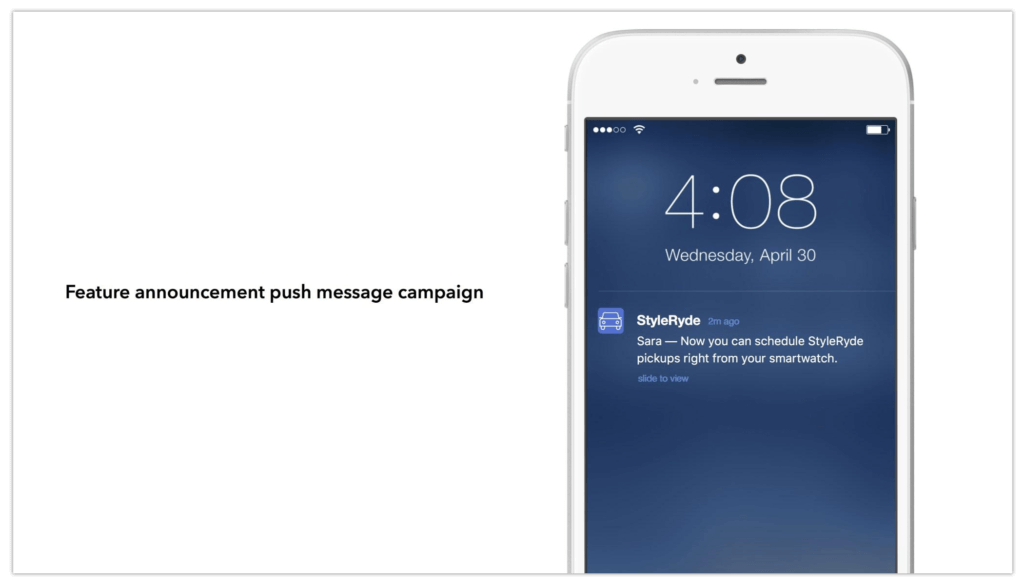 Interestingly enough, push notifications were the newest addition to the marketing mix and they made a huge difference.

What do the numbers say?
You may be wondering how email's fits in all this.
Well, for starters, there are many myths floating around that need to be debunked. People say that email has been blown out of the water by social media. Others claim that proliferation of instant messaging apps make this channel borderline obsolete. It is astonishing how inaccurate these notions are. Email may not be the most buzz-worthy channel of today, but we are interested in facts and figures.
They prove that year and after year, email stubbornly refuses to die. People still use it on a regular basis and the worldwide pool is projected to grow to 2.2 billion by the end of 2018. According to Statista, email marketing spending is growing steadily and poised to exceed 3 billion in the U.S. next year.
What is more, 89% of marketers still utilize email as a primary platform for lead generation and driving sales and visits to the website, often via special deals and discounts.

Email still pays dividends
The main reason for this email's popularity is median ROI of 120% that it offers. To put things into perspective, that is over 4x higher than other marketing channels, including push notifications, TV spots, social media, SEO, public relations, etc. But, you probably knew that email is a reliable workhorse— that is old news.
What is new is that just like other major channels, email marketing has been shaped by the following trends:
personalization,
segmentation
gamification
interactivity
dynamic data
typography.
These developments have paved the way for email to assume a pivotal position in a multichannel marketing world. We will cover some of them later in the article.

Channeling the traffic
So, whether you want to build a strategy from a ground up or hire someone to do it for you make sure to research all the digital agency options out there. Also, it is important to be well-aware of marketing reality we work in.
Simply put, integrated multi-channel campaigns yield better results than those carried out via individual channels. It stems from the need to unify customer interactions and take full control over brand communication. The sooner you come to terms with this, the better it will be for your brand.
Another strong push towards multi-channel approach comes from user preferences. In this day and age, people use an average of three to five platforms over the course of a buyer journey. This increases the complexity of task marketers have at hand. The main problem here is that whenever consumers make a move between platforms, there is a risk of losing a sale to competition. One way to bring them back into the loop is to establish a strong connection between email and website. Email campaigns are effective in directing traffic to pages and building bridges, mostly through alerts, calls-to-action, newsletter, and behavioral emails.

Mobile fine-tuning
It is crucial to understand that mobile devices are becoming a major source of email traffic. Namely, the long-reigning king, desktop, is dethroned. Today, the majority of emails are now opened on smartphones and tablets. What does this mean in terms of email marketing?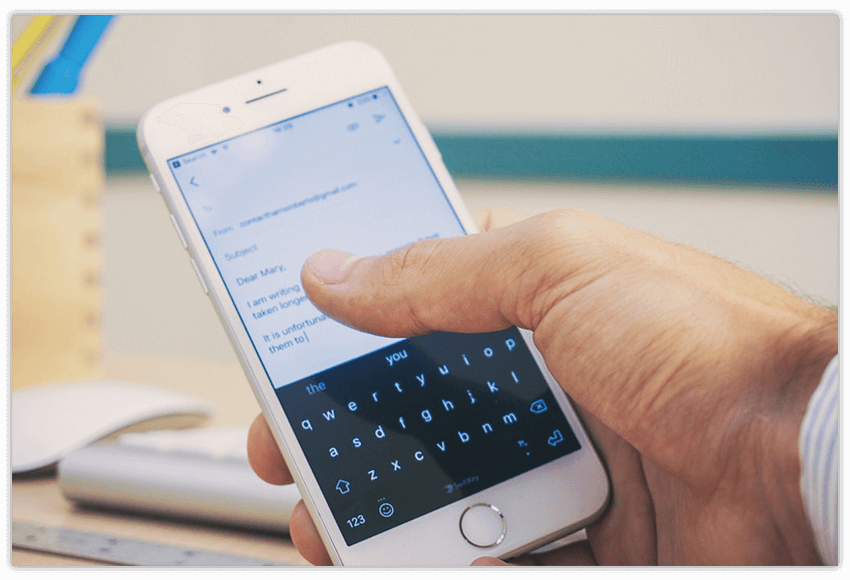 Well, one takeaway is to avoid emails that poorly optimized for mobile devices, as they get deleted in large numbers. Some users even unsubscribe from the list faced with such an unsightly spectacle. This is to say that modern marketers have to embrace mobile-responsive design in order to improve click-through rates, as well as to reduce unsubscribe and spam rates.

In general, to improve responsiveness, most businesses focus on:
optimizing landing pages
improving the shopping cart experience
and beefing up product pages
Clear focus and sense of purpose
The era of one-size-fits-all email marketing for the masses is over. Modern users are tech-savvy, spoiled for choice, and expect businesses to speak on a personal level. The good news is that we have all the tools necessary to respond to these new challenges. Segmented campaigns are the way to go here: they bring an increase of 760% in revenue and spur way more opens and clicks.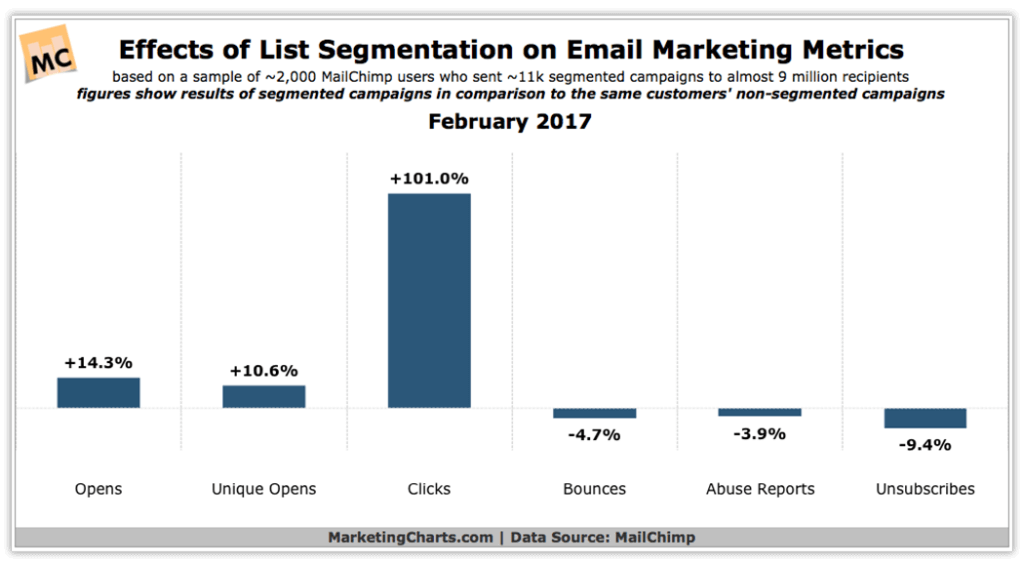 Likewise, transactional and triggered emails prove to be much more effective than bulk emails and they drive the lion's share of marketing ROI for modern businesses. They also allow us to get on top of real-time social interactions and uncover people's interests, opinions, and habits.
Hence, one of the most important tasks for marketers is smart email list segmentation. There are many ways to go about this and they all stem from data linked to consumers' behavior, demographics, and habits. You need to discover what people look at and click, as well as what their preferred channels of communication are.
These invaluable insights allow brands to target users much better and jumpstart email automation. That way, they are able to reach consumers at the best possible moment and craft messages they enjoy and find useful. Naturally, the more information you gather, the easier it is to achieve these goals.

Finding the Holy Grail
Furthermore, email can serve as a hub for a multichannel message and content delivery. After all, it is a powerful tool for cross-device identification as it holds records of users' email addresses.
To be more precise, the key to creating and executing multichannel-supported email campaigns lies in the hashed email. In a nutshell, it is a method of encrypting pieces of data into hexadecimal strings. As you may know, every single mail has its own unique string that remains unchanged regardless of where, when, and how users log in. This means that hashed email can be used to track every online action people choose to take after logging in.
As a result, the floodgates to understanding and measuring behavior are opened. We do not have to rely solely on cookies anymore, which is a great improvement if you ask me. These traditional marketing tools do not work across multiple devices, while hashed email enables marketers to track individuals even when they are doing it on the fly, from mobile platforms.
A well-oiled machine
Another trend you have working to your advantage is automation.
It is nothing short of a game-changer: emails can be sent based on a predetermined script or event, which is stated in the marketing campaign. These scripts, also known as workflows, contain various conditions, messages, and triggers (such as greeting new subscribers and re-engaging inactive users). They shape the dynamics of communication between brands and their target audiences.
Of course, to make the most of automation, you have to plan ahead of time.
Most importantly, set clear goals and find points of convergence between email and other channels. These can be any of the following elements that emails carry: links to other resources, various alerts, embedded social media icons, blog commentary updates, event invites, etc. Take advantage of them to create gateways between pieces of your marketing collateral.
Ahead of the curve
Speaking of which, integration of email with social media is another key step.
Basically, the two channels can advertise one another and steer users in the right direction. What is more, it is possible to share content and communicate new product and service offerings.

Triggered email (cart abandonment and welcome emails, for example) is the best way to capitalize on real-time social interactions, where interests, opinions, and habits of people can be picked up.
All in all, you must not miss a chance to add such value to your marketing activities. Put together a database of email addresses and use that information to engage consumers on other touch points, such as social media and display. Reinforce your core messages and provide interlocking support. Strive to inform, remind, welcome, reward, and thank customers.
Make no mistake: using email as the beating heart of multichannel, coordinated marketing is your chance to get ahead of the pack.
Wrapping Up
Many have prophesied the inevitable demise of email, yet it is more alive than ever before. Go figure!
Not only that but in terms of sheer effectiveness, other channels still cannot come close. So, do not allow email efforts to fall behind on recent developments and trends in the field, most notably automation, segmentation, and personalization.
To get the ball rolling with a multichannel strategy, develop a deeper understanding of how people interact with your brand in every channel. Monitor customer journey and tailor your campaigns to wants and needs of the niche audience.
Through it all, maintain consistency of tone, style, and messaging. If you really mean business, you need to do what works, not what is trendy and posh.

---
This is a guest article contributed by Daniel Bishop.
He started off as a content consultant for small SEO and web design companies. Online consulting was perfect for him as he is very social and loves to travel. Settling down in Europe, for the time being, he finally found his place as a junior editor for Design Rush a B2B marketplace connecting brands with agencies. Always searching for new opportunities, he loves sharing ideas with other professionals in the digital community.