Hello!
I am sure you all are doing great and are loving Convert Pro as always! In the recent updates, we released a Geo Location feature that allowed you to target users according to the countries they view your website through and many more features that you had asked for.
Today, I am back with an update – Convert Pro version 1.2.7, which again has some requested features that many of you asked for. While we can move on to the improvements and fixes listed in the changelog later, let us see the important highlights of this update.
Cookie Based Trigger
Do you wish to display a particular call-to-action when a specific cookie is set? Let's say you want to display a discount for a particular product only when the user has a similar product added into his cart. In such a case, you'll need to copy the cookie name that is set when the product is added to the cart and use that as a trigger for a particular call-to-action created using Convert Pro.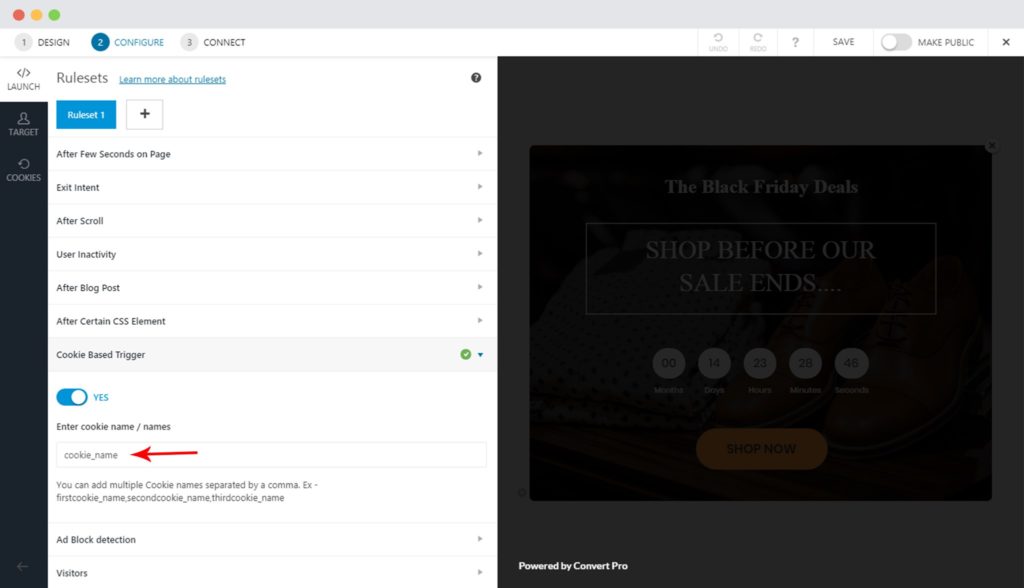 Displaying a call-to-action only when a particular cookie is set gives you a lot more freedom to display targeted messages. The cookie-based trigger in Convert Pro allows you to enter the cookie names. This means that the specific call-to-action will appear only when the specified cookie or cookies are set.
We also have a knowledge base article that explains the cookie-based trigger using Convert Pro.
New Field Action
We have added a new action that closes the call-to-action immediately after the user is redirected to another page or when a lead magnet is downloaded. You can read more about field actions in the respective knowledge base article.
You can read more about the other improvements and fixes of the update in the changelog.
Want to try all this on your website? Make sure you update Convert Pro now and get the latest version 1.2.7.
We would love to know how this goes for you. Have any suggestions or ideas for us? You can drop them in the comments below or just write to us. 🙂