The General Data Protection Regulations will be enforced from the 25th May 2018!
Ever since we came across this news, we've been flooded with a lot of queries and requests asking us whether Convert Pro is GDPR Complaint and can be used without any worries. I am writing this post mainly to answer all these queries and also to point out a few ways in which you can implement your opt-in forms while following the law.
What is GDPR?
Let's not get into the legal stuff! You can read everything about it in the official GDPR announcement post here. Just to give you an idea, GDPR is a set of EU laws that is applicable to all the companies and organizations serving EU citizens through the internet. This law should be followed by all websites irrespective of the countries they belong to.
According to the law, no website or business is supposed to capture and store user information without their consent.
Is Convert Pro compatible with GDPR?
YES! Convert Pro is fully compatible with GDPR and has options that will let you follow the regulations stated in the law.
How can you stand by the GDPR Regulations?
? Consent Checkboxes on Opt-in Forms
The most important factor of the GDPR law is that a website should ask for user consent before saving his details. This is certainly possible with Convert Pro. You just need to drag and drop a checkbox and mark it required. This will make sure that the form does not get submitted until the user agrees to the terms besides the checkbox. Also make sure that the checkbox is not checked by default. You have to let the users check it if they agree to your terms. We have an article that explains how you can add a checkbox in a Convert Pro opt-in form to follow the GDPR law.
? Adding a Privacy Policy link or Terms and Conditions page in the opt-in form
We all know that Convert Pro is 100% customizable and that you can format content and add links wherever needed. You can add a link to your privacy page or terms and conditions page so that users can go through them before signing up and agreeing to submit their information. You can thus reveal your intentions and policies before hand and collect data from users who accept them.
Here is an example of how you can add a checkbox and insert a link to your terms and conditions/privacy policy page too.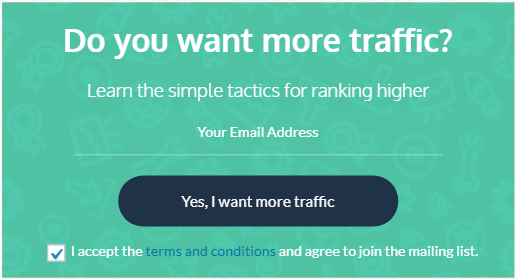 ? Sharing Data Overview
According to the GDPR law, a website owner or a business is supposed to inform users about where and what data is stored along with the purpose behind it. Although this cannot be done with Convert Pro alone, Convert Pro lets you integrate with several autoresponders that allow you to send a confirmation email to ask for another consent before the user is added onto your email list. This is where you can inform him about the details you've collected and where it will be used.
If required, you can fetch your lead data from the third party software and share it if ever asked.
Some additional tips that will help you follow the law:
✅  Make sure you set the consent checkbox as a required field and DO NOT check it by default.
✅  A double opt-in feature could help in getting confirmation from the user. If not this feature, you could send an automatic response informing users about where the data will be stored and used.
✅  Add an unsubscribe link in every email you send. This follows the law to let users move out of the list at anytime.
✅  Make sure you state the terms and conditions and your privacy policy in a short and understandable format.
GDPR is just another law that we all need to walk with on all our websites. Everything can work right when done the right way. We've made sure that Convert Pro can assist you in this process when you use it the right way!
Conclusion!
Well, yes! Convert Pro is GDPR Complaint and can be used easily by following all that the regulation says. 🙂
Go ahead and give this a try. Please feel free to let us know your thoughts in the comments below.