It's good to be a modern email marketer! We have a huge range of services, metrics, and tools at our fingertips.
However, many newbie email marketers (and even experienced professionals) make mistakes that negatively affect their reputation and clients' advertising budgets. It happens by accident, out of haste or ignorance and can easily be avoided.
Today we'll share 15 common email marketing mistakes to avoid at all costs.
All designed to help you quickly adjust your marketing strategy and increase your company's sales.
15 common email marketing mistakes
Using experience to avoid repeating mistakes is a part of the email marketer's life. We have compiled 15 email mistakes that most marketers make so you don't have to make the same ones we have.
All of them are equally important when creating your emails.
Use our experience to avoid making these common email mistakes as they can directly influence the success of your email marketing campaigns.
Making mistakes in the subject line
People get tons of emails. A workday is just not long enough to read every one of them in detail.
Most recipients just scan the Subject lines for a few microseconds and then decide whether to open the email.
What should be in the subject line to make a user read it?
The most successful subject lines meet several criteria:
They provide value immediately. We mean value for the recipient, not for the sender. Imagine you're an article writer, and you're writing to the editor with a proposal for collaboration. Compare "I suggest topics for your blog" and "I'm an aspiring author, I really want to collaborate with you." The second subject line is better.
They are short, clear, and to the point. Such subject lines focus on the subject matter and show the primary purpose of the email.
They sound professional, not sensational. Examples of bad subject lines are "Lose 20 pounds in two weeks!" or "Make a six-figure income in 30 days!!!". Examples of great subject lines are "Check out how to lose 20 pounds" and "Get a plan on how to increase your income".
They are personalized. Addressing the user by name always pleases the eye and caresses the ear. And, of course, the email should be sent only to one recipient, not hundreds in a mass mailing.
The bad subject line is the first obstacle to successful email marketing. But now you know how to avoid it.
No email preview

Alt: example of email preview
Most email programs have a preview function that briefly introduces readers to the email's subject. It's like a TL:DR in an article: users want to know what the text is about before reading it.
Just as the subject line should grab the reader's interest immediately, the preview will let the recipient know if they want to read further.
Remember the rule: the first line of any email should be the most exciting. It's a guarantee that your message will be read.
Not using personalization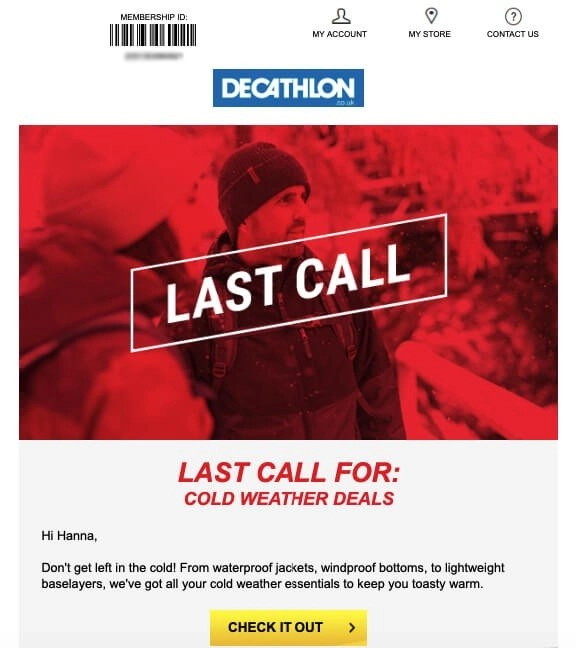 Alt: example of email personalization
A commitment to personalization is a trait that promotes your brand as caring about the customer.
According to GetResponse research, personalized headlines have an open rate of 24%, while standard emails have an open rate of 21%.
A personalized email body yields a 3.89% CTR compared to 3.29% click-throughs from non-personalized emails.
While that doesn't sound like much, if you're sending thousands of emails in a campaign, those numbers can make a big difference!
Not using a profile picture on email ID

Alt: example of profile picture on email ID
Almost all email providers have the option of adding a profile picture as you would in social media.
The profile picture on the email ID offers several benefits:
Increased trust and rapport
Recognition from the first seconds
Visual association
Creates a human connection to the person behind the emails
Your profile picture on your email ID should:
Be clear, not blurry
Be straightforward and visually striking
Have a correct aspect ratio for the platform's format
Meet or exceed the platform's minimum image size requirements.
Never underestimate the human touch. When most of our lives are run by bots, machines and automated systems, knowing there's a real person on the other side of the email can make a massive difference!
Not using the "unsubscribe" link for an easy opt-out

Alt: example of the unsubscribe link in email
All marketing emails should provide recipients with an unsubscribe link. This ensures that your email list contains only people interested in your product or services and you don't waste time on the wrong people.
Providing an unsubscribe link allows them to remove themselves from your list quickly and easily.
While nobody wants to encourage people to leave, we also only want people on your email list who want to be there.
Also, if your emails don't contain unsubscribe links, recipients can start marking them as spam. This will negatively affect your reputation for mailers and lead to failing your next email marketing campaign.
Unsubscribe links are also a legal requirement in some countries, so don't forget them!
Not leaving any opportunity to reply and ask questions

Alt: common email marketing mistakes
Emails that don't allow readers to respond and ask questions are doomed to fail. Always enable readers to provide feedback. A good option is to integrate a "contact us" link into the email that leads potential customers to a landing page and generates leads.
On this page, they can ask any questions or request more information. You can also create lead magnets with ConvertPro. They are also an excellent source for lead collection when you do email marketing for a cold targeted audience.
For example, real estate agents can ask for a user's contacts to indicate the timing of buying or selling a home in an ad.
Ignoring obvious spelling and grammar errors
Obvious spelling and grammar errors make your subscribers think you are less intelligent than you really are.
Spelling mistakes often create confusion, make email text difficult to understand, and can portray your business as unprofessional.
Studies have shown that obvious spelling and grammar errors cause people to leave immediately because they lose confidence in the information presented.
That's not great for your core message or your brand's reputation.
We recommend asking an essay writing service or in-house copywriter to proofread email text before sending. It's better to be safe than sorry!
Writing sales-oriented emails or using too many links
Your emails should bring value to readers, not focus on benefitting your business. When recipients see that your emails are too sales-oriented or provide too many links to products, they can start to lose interest.
The ratio between sales and helpful emails directly influences your email marketing success.
Remember, email marketing is about the reader and not about you. Frame your emails that way and your campaign should succeed.
Misleading headlines
In business, you should always deliver what you promise. If your headline promises 25 ways to save money on groceries, your email had better deliver 25 different ways to save money on groceries!
If a company sends out misleading marketing emails, it can take years to rebuild a reputation. And customers won't wait – they'll find more trustworthy organizations to do business with.
Here are a few rules that work:
Avoid excessive emotion and enthusiasm. Write in a professional and level-headed style.
Include a privacy notice in every email, letting readers know you care about their data.
Avoid cheap tricks like the illusion of a reply in the subject line. It looks like this: "RE: Buy plastic windows." The user is not suffering from amnesia and remembers perfectly well that he didn't send you any emails.
Misleading headlines are used mainly by small businesses and can significantly harm their reputation.
Also, write from your work email, not your personal account. Emails from "Name"@companyname.com get opened more often than those from an anonymous user.
Using lots of graphics and stock photos
The problem with lots of graphics or images is not that emails load slowly. Relying only on graphics and not paying attention to the text can put readers off and distract from the message you're trying to communicate.
At the same time, the clever use of diagrams, charts, infographics, and the company's corporate style can increase trust and, hopefully, the conversion rate.
Think of email design as spices you add to the main dish of quality content. Too much spice will ruin even the best food, while a moderate amount and interesting combinations will deliver a tasty dish.
Sending too many emails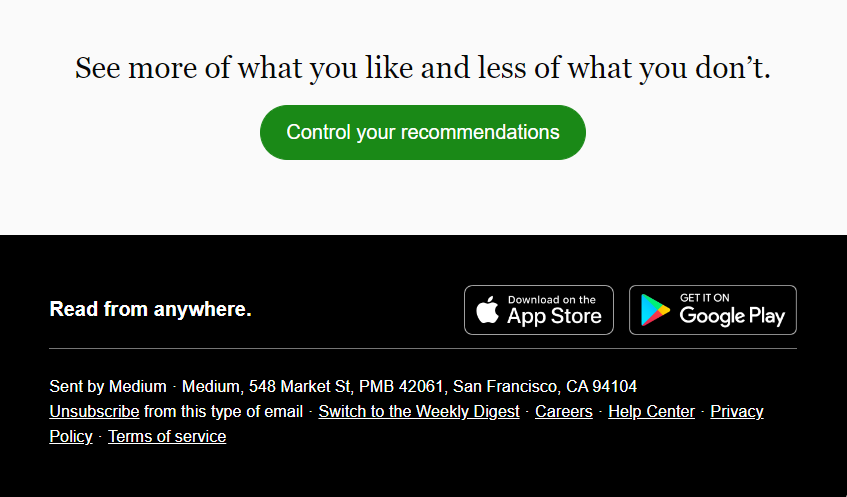 Many marketers make the mistake of working too hard with emails (or not making contact at all after launching one or two successful email marketing campaigns – but that's the other case).
Even if users really like your content, remember that the best is the enemy of the good. When there are too many emails, it's a distraction from work and other things to do.
Bombarding readers with too many emails annoy even the most loyal users. In the end, readers will stop reading them altogether.
Ideally, allow visitors to choose the desired frequency of updates (e.g. newsletter once a week) when registering and comply with their wishes.
Automate the sending of emails at regular intervals, even if the marketer is on vacation or sick.
Neglecting the mobile version
With the rise of mobile phone use, it is essential to adapt emails to small screens.
Always test email marketing campaigns on different devices to eliminate quality and load time issues. It is essential if you want everyone to enjoy the best possible experience when reading your emails, regardless of the device they use.
Marketers can't improve download speeds if the user has an old smartphone or poor network quality. But they can create email layouts that allow most users to view their content faster.
Not keeping track of email campaigns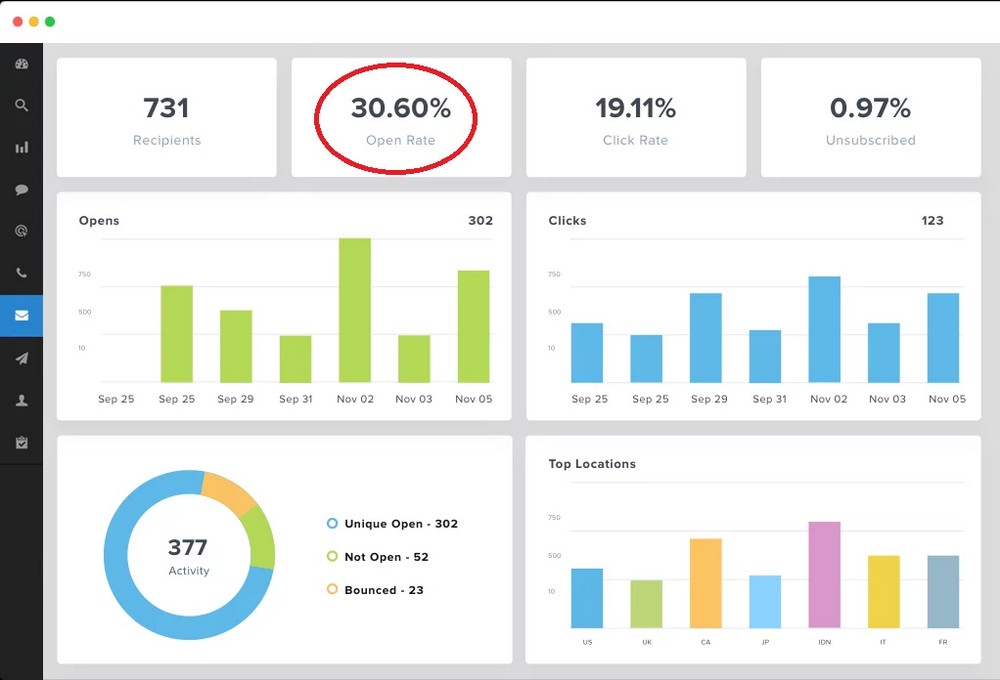 Email marketing campaigns should ideally implement tracking software. This will help determine which emails are causing readers to take targeted actions (clicking links, subscribing, ordering goods and services) and which are going straight to spam.
A tracking system will help improve your email marketing strategy and increase conversion rates. It will give you an understanding of the current situation with email sales to change or adjust your email marketing campaign.
Many CRM systems include email tracking tools. Experienced marketers actively use their capabilities to evaluate the effectiveness of email campaigns.
It also allows you to target those customers who will open the email and entice them with special offers.
Trying to engage uninterested users
Keeping loyal customers who always come back for content or products/services is more important than trying to engage those who don't open emails or send them to spam.
We know that email marketers want to spend as much time as possible on those readers who do engage and who will convert.
Review your email list quarterly and gently remove contacts who still did not buy.
For many marketers, the suggestion to remove possible leads will seem like a crime. The argument is, "These are potential customers! Just a little more pressure and they will read emails and take targeted actions!"
In the long run, those who focus on interested customers are the ones who get a higher return on investment.
Using incorrect calls to action
Why even build an email marketing campaign? That's right, to motivate readers to take targeted action. Whether that's to buy, sign up, subscribe, request a quote, or something else, you need the right call to action.
Email is an easy and inexpensive way to reach potential customers, but poorly designed campaigns give the impression that the business only wants money without offering anything in return.
Hence the conclusion: Choose your call to action words carefully. Effective calls to action (CTAs) should focus on the customer, not the product.
Create calls to action that meet the needs of your readers. Offer ready-to-use real solutions, give helpful information, and take care of your users' comfort and time.
Every marketer should ask themselves these questions
So, we've broken down 15 of the most common email marketing mistakes inexperienced marketers make. Avoiding them will help you attract loyal customers and spend your budget more effectively.
Before creating an email marketing campaign, answer these questions:
What are the main goals of our company's email strategy?
What prevents us from achieving better results? (you need to know the problems beforehand to be able to solve them)
How can I prioritize goals and objectives when building an email marketing strategy?
What are the most effective types of emails?
What resources (in-house or outsourced specialists) do other companies use for email marketing?
Answering these questions and avoiding the above mentioned email marketing mistakes will help you adjust your marketing strategy and achieve the goals you set.
This is a guest article contributed by Stacey Wonder.
Stacey Wonder is a freelance blogger from California. She usually writes on educational topics, career, self-development, and writing. When not busy with her projects, Stacey creates detective stories. She dreams to become a well-known writer one day. Email: [email protected].