We've heard a lot about GDPR, its regulations, effects and the ways you can comply with it. If you are still living under the rock and not sure what GDPR is? You can learn about GDPR here.
Before we begin, let me tell you that Convert Pro complies with GDPR and can be used with just a few guidelines.
In this article, we'll see the features of Convert Pro that make it GDPR compliant and a couple of guidelines that you'll need to follow.
1. Obtaining User Consent
Convert Pro allows you to add single or multiple checkboxes to take user consent. You can set these fields as required or not required to save the data only when the user has given his consent.
Note: The checkbox should be un-ticked by default. The best part here is, Convert Pro does not allow you to display a pre-ticked checkbox.
You can take a look at the screenshot below to see how you can add a checkbox field in a Convert Pro opt-in form.
Go to Design -> Form Elements -> Add a Checkbox on the opt-in form.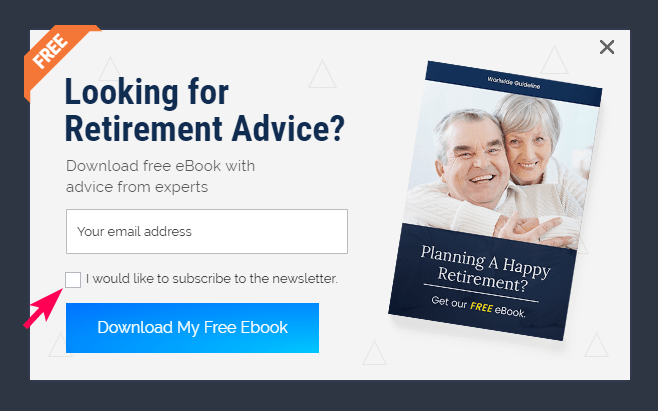 2. Segmenting Users according to the Consent
GDPR states that a user needs to give his consent so that you can store his data and use it for a particular process/processes. It is important to obtain consent for the exact process/processes the data will be used for.
Convert Pro integrates with all major email marketing software and CRM that support tags and groups. You can segment users by tagging them separately or adding them to different groups and obtaining user consent for the same. This means that you can connect an opt-in form to a specific group or add specific tags and inform users about the intention of the group or tags.
Third-party software like MailChimp, AWeber, etc. support groups and tags that allow you to segment users and treat them differently.
Using multiple checkboxes on an opt-in form will let users select a particular process they wish to opt-in for. You can add this as a custom field in your third-party software and use it as a parameter to filter users in your mailing list.
Here is an example of an opt-in form with multiple checkboxes that users can choose from.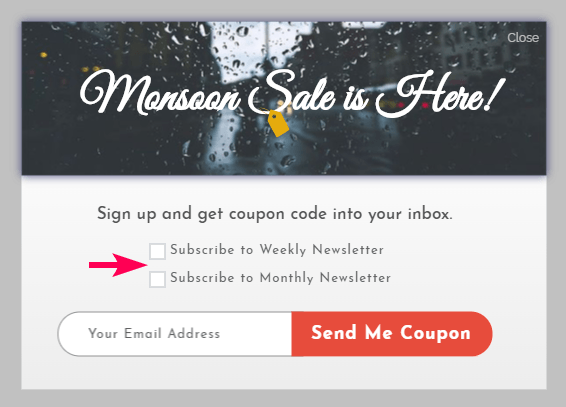 3. Data Storing and Processing
Convert Pro does not store any data in your WordPress backend. It can be integrated with over 30+ email marketing softwares or CRMs where you can store and manage this data.
Convert Pro also gives you an option to enable an email notification for every successful form submission. You can receive subscriber information directly into your inbox.
GDPR states that users have the right to information, can request access to their data, can ask you to rectify it or contact you to delete it, etc. Therefore, if need be, you can access your email or communicate with the respective email marketing software or CRM you have integrated Convert Pro with and make necessary changes as requested by the user.
Note: I am sure most of the Email Marketing softwares, CRMs, autoresponders, etc. will comply with GDPR. But, I would still ask you to make sure that the third party software you are using is GDPR compliant.
4. Cookie Storage and Consent
GDPR states that any online identifiers that could be used to identify a person are counted as personal identifying data. This includes IP addresses, cookies, email addresses, devices, etc.
Cookies are important in many cases, for better user experience. Convert Pro uses cookies but they do not store any personal identifying information like name, email, and IP address, etc.
However, Convert Pro can be further extended for not using any cookies at all with filters that will work with Cookiebot. Cookiebot is a plugin that notifies a user and asks whether he would allow a website to store cookies.

If a user disallows the saving of cookies, Convert Pro won't store any cookies.
Note: Disabling cookies completely will affect the major functionality of Convert Pro.
5. Google Analytics Integration
Convert Pro seamlessly integrates with Google Analytics to provide statistics about the impressions and conversions an opt-in form receives. This creates events in your Google Analytics account.
But, since Google Analytics tracks user data such as the IP address to track the location etc., you will need to take some minor steps to change the way Google Analytics tracks data. You will have to turn on the IP Anonymization option so that no IP is tracked.
You can refer to our article about Convert Pro's integration with Google Analytics and follow the steps needed to anonymize user's IP address.
FEATURE ON THE LIST!
Displaying Location based Call-to-Actions
Are you worried about losing your worldwide user data just because you need to follow the GDPR regulations on your website? We understand your concern and are working on a solution that will help you identify users location and display a call-to-action accordingly.
The best part of this feature is that it will allow you to create GDPR compliant call-to-actions for users based in EU countries, and use the common ones for the others across the world.
This is just the beginning!
Should we come across any new requirements that are necessary, we'll work on them too. You can keep coming back to this article to see how you can comply with GDPR while using Convert Pro.